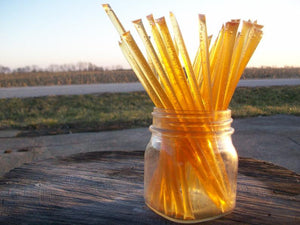 Honey sticks are a popular way to try honey or just to take it with you on the go. They are the perfect treat to sweeten up that morning cup of coffee or tea on the way to work.  Portable and delicious you can take them anywhere you go.  Kids love them as snacks!

For that natural energy boost you may need while traveling, hiking or any outdoor activity, honey straws are readily available.  They pack well and all you have to do is just snip off the end & squeeze!!!   
Each straw contains approx. 1 teaspoon of 100 % pure natural honey and has around 4g of carbs.  No additives or sweeteners. 

Honey straws make for really nice party favors or gifts when your looking for that "unique" something to give someone.  
Sold in packs of 25.