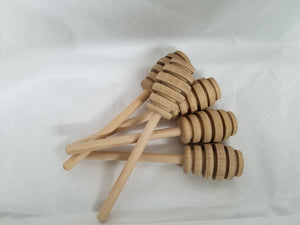 These wooden honey dippers are a must have for any honey lover!
The purpose of a honey dipper is to get honey out of a jar without making a sticky mess. The honey sticks in the groves of the dipper, so it won't drip the way it does when you use a spoon. 
Dip It – dip the honey wand into your honey jar at an angle.
Cover it – Cover the tip of the honey dipper in honey. ...
Twist it – Slowly twist the handle of the dipper while lifting the tip out of the honey. Continue to twist. ...
Drip it – To release the honey simply stop twisting.