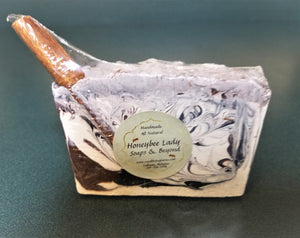 I know your thinking, who wants to smell coffee in the bathtub.  But doesn't that first cup make you all warm and relaxed? 
Close your eyes and just imagine the warm aroma of cinnamon, coffee beans, hot chocolate, cocoa, vanilla and sugar.  That creamy goodness will melt the day away and you will be hooked!
One of the ingredients in Coffee House is mango butter.  It is highly moisturizing and very nourishing for the skin.  The Vitamin C in mango butter helps it to boost the skin, brightening it, while the Vitamin A helps to increase your skin's youthful appearance.  The other ingredients are all skin moisturizers as well as anti-inflammatory and anti-bacterial.
Ingredients:  Babassu Oil, Castor Oil, Cocoa Butter, Coconut Oil, Mango Butter, Oat Oil, Olive Oil, Sunflower Oil, Sodium Hydroxide Lye and Distilled Water