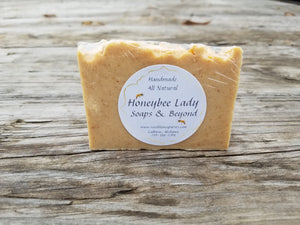 This is by far one of my favorite soaps.  The beautiful color is all natural and comes from the turmeric and carrot, combined they provide the skin with Vitamin A, C & E. 
Turmeric provides the Vitamin E and is a natural antibacterial that provides our skin with moisturizer and gives us a healthy glow.  Revitalizes skin cells.
Carrots contain Vitamin C and Vitamin A, which help to hydrate our skin more effectively.  Without it skin can become overly dry.  The beta-carotene found in carrots can also help in reducing skin inflammation. 

Honey is a natural hydrant that retains and attracts moisture to our skin. It is extremely moisturizing and soothing, as well as being antibacterial and anti-inflammatory.
Combine all three with a tangerine citrus scent and you get the most amazing bar of soap!
Ingredients:  Coconut Oil, Carrot Puree, Turmeric, Honey, Colloidal Oatmeal, Sodium Hydroxide, Water, Fragrance