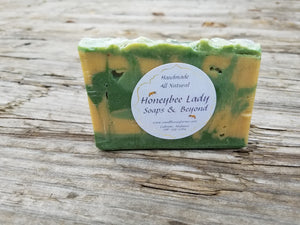 Are you someone who struggles to find the right soap products for your sensitive or rough dry skin?
You're in luck because Avocado Soap is a great gentle soap to use, it helps your skin to retain water and stay hydrated.  It acts as a natural moisturizer.
Avocado as well as avocado oil contain vitamins A, D and E.  The natural oils in avocados can deeply penetrate your skin to nourish, soften, hydrate and moisturize.  
Ingredients:  Avocado, Avocado Oil, Castor Oil, Coconut Oil, Olive Oil, Palm Oil, Rice Bran Oil, Sunflower Oil, Distilled Water, Sodium Lactate, Sodium Hydroxide, Colorant & Fragrance